Microsoft released a new version to Windows 10. The update is also known as Windows 10 2004, or May 2020 update, with a small number of additions. Microsoft clearly concentrated more on refining the previous update rather than making significant leaps forwards.
With that being said, there are still changes and improvements through many parts of the Windows experience. We've compiled a list with all the exciting new features below for you. So let's get started!
1. New and improved Cortana
Windows 10 version 2004, Microsoft is introducing a new and improved version of Cortana, and if you enjoyed using the digital assistant, then you'll love this new version. First thing however, bad news for users using Cortana on Android, iOS, as well as on Windows 10 versions that have reached the end of support, Microsoft has decided to pull the plug on these devices to focus almost exclusively on productivity, and losing its capabilities relating to music, smart home control, and other third-party functionality.
Expanding on the productivity changes, Cortana's skills within emails and calendar have also been improved by allowing her to check for received emails, see any upcoming appointments and even set meetings. Cortana can also join you to Teams meetings, and be used to open apps, or access certain parts of the settings window.
Finally, the new Cortana app allows you to move and resize the Cortana window around the screen, instead of having it docked to the taskbar. You can also create a preference to input methods for Cortana, so when you summon Cortana, you can use either the keyboard or your voice. The new Cortana has also had a significant overhaul on its UI design that shows you the history of your interactions with the assistant
2. File Explorer with Windows Search
The good old fashioned search bar in the File Explorer has also got its fair share of love. Now, it's powered by Windows Search, which means in addition to local files, you can directly search for files within your OneDrive.
You can also see some visual changes that Microsoft has made to its search bar too.

Another change (that appeared within Windows 10 1909) also shows results in a drop-down menu as you type the keyword. You can also press Enter after you finish typing to take you to the old interface if you find this feature annoying.
3. Windows Subsystem for Linux (WSL) 2 Improvements
An update we're most excited about, your WSL 2 Virtual Machine's memory would grow to meet the needs of your workflow, however, this would not shrink back down when the memory was no longer needed. Within this change, memory is no longer in use in the Linux VM, it will be freed and allocated back to Windows, which will shrink in size accordingly.
Microsoft has also added support for WSL2 for ARM64 devices. Not only that, they have added the ability to set your distribution's default user using the /etc/wsl.conf file.
You can see full details of changes in this latest build by seeing the WSL release notes.
Microsoft has also added connecting via local host to WSL 2 to Linux apps from windows and global WSL configuration options possible.
You will now have the capability to connect to your WSL 2 Linux networking applications using localhost.
Microsoft has also included global configuration options for WSL. This allows you to specify options that relate to the WSL 2 Virtual Machine (VM) and all your WSL 2 Distros run inside of the same VM. The most exciting option, for us atleast, is that you will be able to access and specify a custom Linux Kernel!
For full details on what's new in this release, check out WSL Preview Build 18945 on the Windows command line blog.
4. Task Manager Improvements
Within Windows 2004, you'll find an updated Task Manager "Performance" tab, which now shows the drive type (for example, SSD), which will come in handy on devices with multiple hard drives.
Within the "Performance" tab in Task Manager you can now monitor temperature on dedicated graphics cards. Which in itself is a great improvement to the Operating System. There is a slight discrepancy, the real-time temperature is only visible for the discrete GPU.
Microsoft has also updated the "Details" tab of the Task Manager, when you right-click a process, a "Provide Feedback" option will now be listed after End Task and End Process Tree.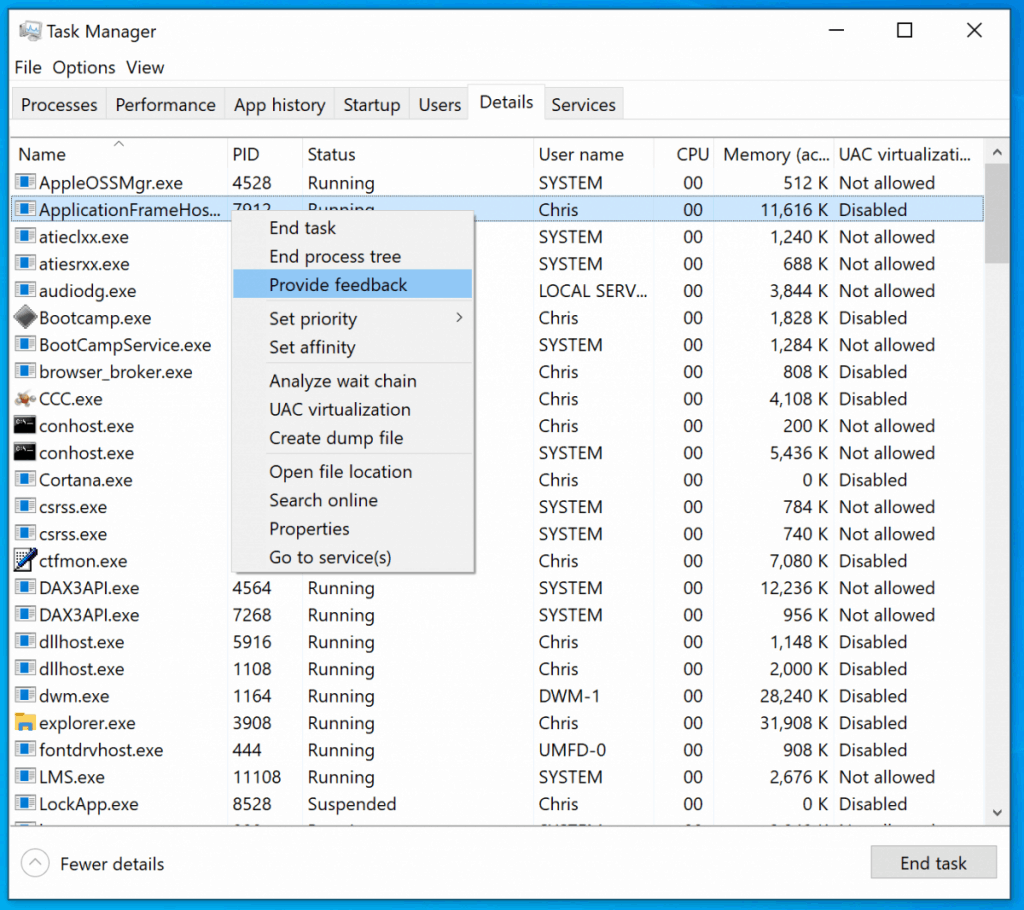 5. Improved Network Status Page
The network status page within settings has also undergone some minor changes. The update brings a new view of active connections and quick access to change settings. However, If you have multiple connections, only one connected to the internet will be shown in the "Status" diagram at the top of the page.
In addition, you have the ability to see how much data is being consumed by a network right from the "Status" page without Third-Party software.
If it looks like you're using a lot of data, you can access and manage the "Data Usage page" to create a limit for that network, which will warn you if you get close or even over your limit. You also have an option to see how much data each app is using on that network.
Furthermore, the "Show available networks" option now displays as a button with icon and description. Unfortunately, you can no longer access the Control Panel's Networking and Sharing Center from this page.
6. Improved Bluetooth Pairing
Within the previous Windows 10 1803 update, it had brought considerable improvements in the form of Swift Pair. Swift Pair is a feature that allows quick pairing with nearby devices. Building on top of that, Windows 10 2004 update will now show one less notification during the pairing process, making it a lot more streamlined and smoother.
When a Bluetooth device is nearby and it supports Swift Pair, you can finish the pairing process right from the notification that pops up.
However, not many people will be able to take advantage of it as the Swift Pair is supported on a limited number of devices, including Microsoft-branded keyboards and mice.
There are plenty of other updates and features within Windows 10 Version 2004, you can find more information by visiting this link
Windows 10 version 2004 in a nutshell
With all the features listed above may sound like a brand new Operating System, this is really an incremental update that delivers some welcome improvements to existing features, such as a new option to reset a device with a fresh image downloaded from the cloud. With Linux becoming more capable on Windows 10, and Cortana no longer being an essential element to your Windows experience, using your device without a password, this update is surely a great step in the right direction for consumers.
Although we're not getting big features in this release, we're getting a lot of enchantments, and this time around Microsoft is spending more time to make sure their consumers have a smooth upgrade experience to Windows 10 Version 2004.
Feel free to take a look at our other blogs on our website to https://hybridmedia.design/blogs