Google updates and how to survive them
From mobile-friendliness and content to page speed and backlinks, here are best SEO practices in 2021 that will really matter the most for SEO
It won't come as a surprise, but one of the best ways to survive the Google algorithm update is… do what Google Says! You would be surprised how many companies don't realise the amount of FREE information Google provides. This ranges from in-depth instructions to general website advice. Everything they offer is committed to making your website better.
Two ways you can stay on top of Google changes:
Web Developers guides
Subscribing to the Webmasters newsletter to stay on top of their frequent changes.
Additional Tip: You can also follow Google Employees on Twitter. They're always answering questions from industry experts and can give a heads-up on SEO trends as well as upcoming Google Features. Some noteworthy employees are Gary Illyes and John Mueller
Going Mobile.
Over the years, Google has pushed 'mobile responsive web design' and they're starting to move full speed ahead into a mobile-first world. With continuous development of AMP pages, Google is helping to usher in a new way of search. Desktop results will no longer be the primary results seen by users; these will go exclusively to mobile.
What I mean by this, is you need to come around to mobile or risk being penalised.
"Wait, penalised?!"
Many of the Google algorithm updates are intended to rectify either poor web use or bad (black hat) SEO tactics. The algorithms remove offenders and send them into Google rankings despair.
If you haven't yet to go all-in on mobile, this hasn't gone unnoticed by Google. With all its power, Google has seen that there are still sites yet to make the plunge. This has prompted Google to offer an incentive to go mobile in a form of providing newly mobile-friendly websites with a slight boost to rankings. We suspect AMP pages may get a small ranking boost in days to come as well.
"So what do I have to do?"
It's never too late to go mobile-first. There are plenty of material online on how to smoothly transition to mobile:
mobile-friendly Test
AMP Guides
Tips for working with Web Developers
Google is fully aware of the needs of its users and majority of their users are using mobile, so it wants their users to have a great experience. Google isn't just building a search engine, they're building a web culture that revolves around serving a user who demands answers and information immediately, and we all need to rise to the challenge to meet those standards.
Plan Ahead
I'm sure you heard the term "Future-proof". Future-proofing is to work hard now to account for changes in the future. For SEO this is no different, to predict changes that may affect the future success of your website. You want to future-proof methods to encourage the raising of your rankings or mitigating a decline.
With that being said, you can't future-proof Google. Sure subscribing to the newsletter and reading guides as we suggested above, but it's impossible to honestly know what a search engine will do next. Google does not always announce when they will update one of their algorithms, which in turn leaves the SEO world hanging in suspense.
"So how do you plan?"
SEO planning isn't just about what you plan, but when.
For example, if your company is hosting an important event, or if you're an eCommerce store hosting a holiday sale. You can create an optimised landing page for that event with relevant keywords, content, titles and meta descriptions before launch day. This allows you to build up interest and engagement so that when the event day arrives, you have already set yourself up for success.
Stay the course.
A significant part of any SEO strategy requires you to keep doing what you're doing. Our generation is built on instant gratification, we as a generation want instant results. Unfortunately, SEO is a marathon not a sprint and it takes time, patience and consistency to start ranking well on Google.
Trust in the content you spent so much time on. Trust the keywords you researched; trust the content you wrote. Second-guessing yourself will always result in disaster, not only because it could give you more work to do when it isn't needed but because making changes can be harmful.
The solution?
Continue to offer excellent blogs, engage in social media posts, and all other consistent routine-based stuff.
Monitor your traffic. Otherwise, you may miss when your pages aren't performing to expectations.
If something you implemented isn't working, you should change it. However, if you change something that is working, you will end up seeing a dip in rankings. So it's always best to monitor your traffic and understand what pages are ranking well for your business and what pages that aren't.
So in short, "if it ain't broke, don't fix it" if your rankings are consistent on several landing pages and bringing in a decent amount of relevant traffic each month, don't mess with them.
How Google Ranks Sites Now
"How exactly does Google Rank my website"
There are hundreds of ranking factors, and knowing where to aim your SEO strategy in 2021 for the best outcome is key.
The factors highlighted in this post are ones we consider to be the most important for this year.
Publish High-Quality Content
"I don't need to create landing pages, blog posts, the website will rank on its own and traffic will come instantly" – I've heard this from clients in the past and it must be great living in a world where doing nothing brings instant rewards.
Content is king. The quality of your website and blog content is crucial. Content that is optimised for keywords still holds valuable SEO power.
Your content needs to provide valuable information. Creating pages with no real value can hurt your website. High quality content is about creating pages that increase the time on page, which in turn reduces bounce rate and provides helpful content to your users.
High-quality content pages must also do more than just be well-written and long form. They also have to cover the following areas.
Search Intent
To understand what your target searchers intent is, you need to deep dive into your Google Analytics to see what users are looking for.
You can also view Search Analytics report's within Google Search Console. What this reports gives you, is insight into what people are clicking on in the SERPs (Search Engine Results Page) to get to your site.
Keyword Research
Keyword Research still supports quality content creation, keywords serve as a content creation roadmap.
Through competitor research and data mining, you can uncover keyword gems that have average search volume but a high click-through rate for your audience.
As the industry continues to talk about the negative impact of keyword research, you need to identify your primary keywords and put them into topics suited for your searcher.
A Google Study found that mobile search queries such as "brand like" and "stores like" have increased by 60 percent over the years. The one thing take away from this study is to adapt your keyword strategy for the mobile consumer.
Rich Snippets
Rich Snippets use schema to markup your text and data for better visibility in the SERPs. Rich Snippets could mean photos or ratings on your result (which is standard for recipes) like this.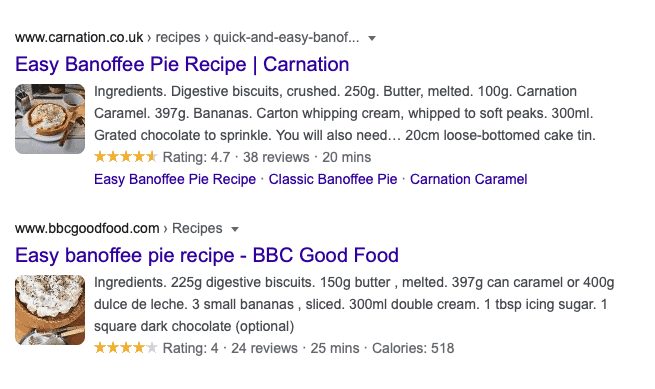 Rich Snippets can increase your click-through rate and lower your bounce rate because you're providing users more of a preview of your content before they click on it.
The best way to think about the SERPs are as a front door into your business, your content pages are the interior, showing users that your website is worth their time.
By building high-quality content for your website, you create an environment in which it's an inviting place for your users and search engines to feel at home.
Authority, Trust and Relevance. The 3 SEO terms explained.
Take a moment and have a think of the most frequent website you visit. Have an idea? Now ask yourself, what makes you return to that website.
The answer? Because it's a trustworthy and reliable source of information, the owners have created a brand and that is being a reliable and trustworthy company.
Trust is one of 3 terms that every website aims to be, so below I'll explain what each term means and how it can affect you.
Relevance
Modern search engines such as Google or Bing use a ton of factors when evaluating the authority and relevance of websites, by breaking them down into two categories
Content Relevancy
External Links Authority
A search engine must be able read and analyse your content. Once the search engine understands the page and indexes it, the next step the search engine does is validates and gauge the level of authority of the page for any given topic.
Authority
Domain Authority was created and developed by Moz,a third-party company, completely separate from Google. Take the Domain Authority from Moz / Ahrefs with a pinch of salt. It's a good tool to gauge on performance, but not a factor to put all your efforts into.
Domain Authority is like your website's reputation. Search engines uses this information to make sure you can provide the highest-quality content about your specific subject.
Websites with a large amount of high-quality inbound links, like Wikipedia, any Gov website have the highest domain authority. Typically brand new websites have a domain authority of one.
The best way to increase your own Authority, is to search for companies that point to other articles that relate to your own content and ask them to review your own work in comparison to your competitors and your content is better, they may point to your own work instead.
Trust
There are many different points for determining the "Trust" of a domain. Below are some of criteria that can be included in an assessment:
Domain Age: On the fast-moving web, the age of your domain is an important factor that can indicate how serious it is. Older domains are not only interesting for continuity, but these domains offer a rich long history. For example, the development of user behaviour, traffic or linking can be determined.
Quality of incoming links: Like explained in the above section. The more relevant and high authoritive domains link back to your own domain plays a significant role to your own success.
Quality of Content: The value of content is determined by many factors, such as, Does the website use high-quality images that are not pixelated? Or, Are images without copyright infringement used? Do the graphics exist on other websites or are they unique. Various quality standards apply to text.
Avoiding Spam: Websites that are considered spammy cannot have high domain trust. Spam appears in many forms. Alongside unnatural link growth, Google categorises keyword stuffing in content or in the meta description as spam. Keyword Stuffing is another term for excessively overusing the same keyword within your content.
In a Nutshell
Google works in many ways, understanding the fundamentals will greatly help you with your SEO strategy. Something things you can't prepare for but being part of knowledgeable groups and following the right people will greatly increase your success.
If you would like a free SEO audit on your website, feel free to out our SEO Audit page