Here's 7 new features in WordPress 5.5 that we're really enjoying thus far and some features we don't recommend.
WordPress is jam packed full of new improvements, with a lot of them focused on the block editor, including some long-awaited features that have finally debuted in this release.
Block Editor User Interface Improvements
One of the major changes in WordPress 5.5 is the UI Improvement to the Block Editor is the inclusion of borders around toolbars, buttons focus highlighting as you create and modify blocks while writing.
This makes it a lot easier to figure out which block you're editing and where you place a new block within the editor. I can't remember the amount of times I've deleted the wrong block by accident or added a block in the wrong order, so with this is a welcome addition to the editor.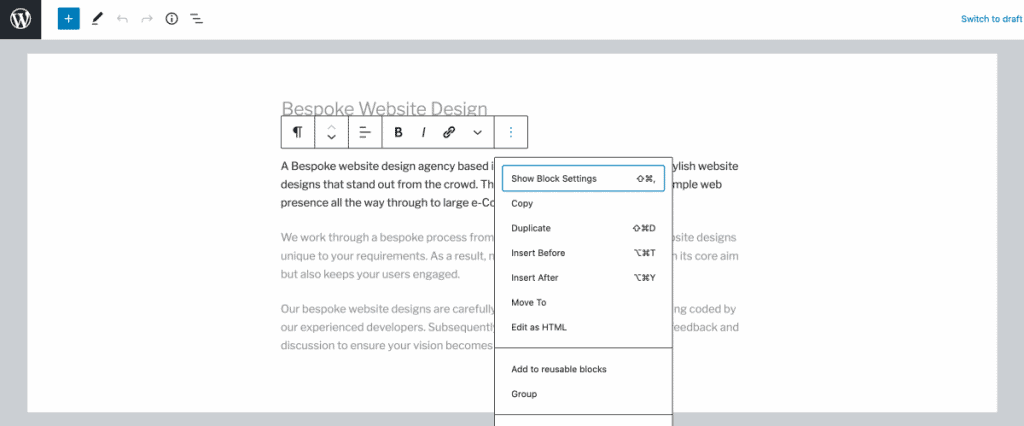 The (+) button for adding new blocks has had a facelift and now is a lot more noticeable and looks more like a button.
New Block Directory
WordPress 5.5 enhances the block editor with a new block directory. The block directory is now built-in to the 'Add new block' search. You can simply search for a feature (as below) and will show the block that is most relevant to your search.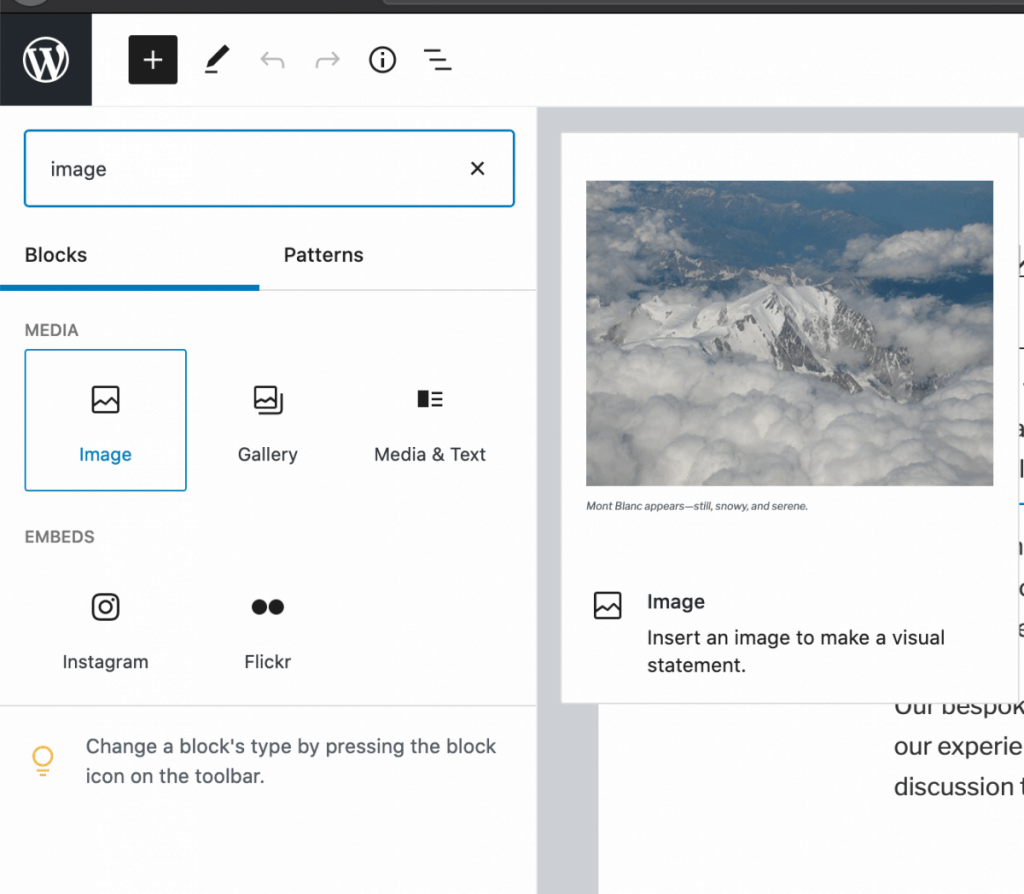 If there is no match to your search then the block directory will show you matching results instead.
Block Patterns
WordPress 5.5 introduces block patterns, these are ready to use blocks with commonly used settings to quickly add these to your layout.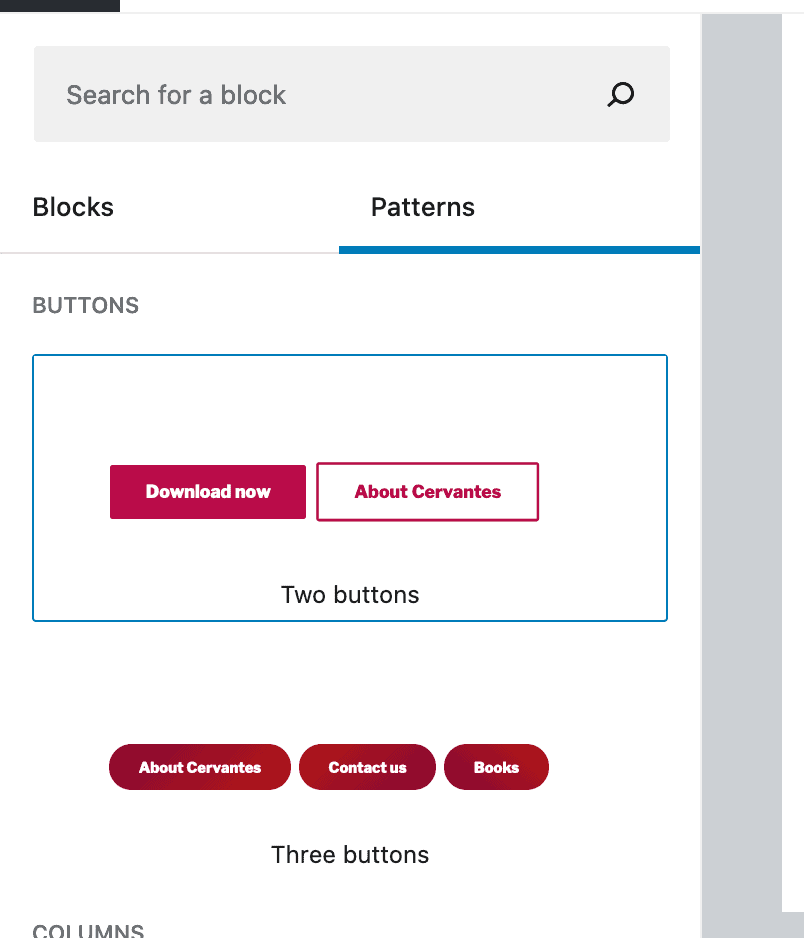 You can add buttons, column of texts, headers, gallery, etc.
Block Navigation and Movement
Within WordPress 5.5 has made it easier to move blocks around inside of the content editor. Simply click on the block and drag it up and down. As per the images below.


Inline Image Editing
Before WordPress allowed you to do basic image editing, such as crop, rotate scale and resize, this however had to be done within the media library.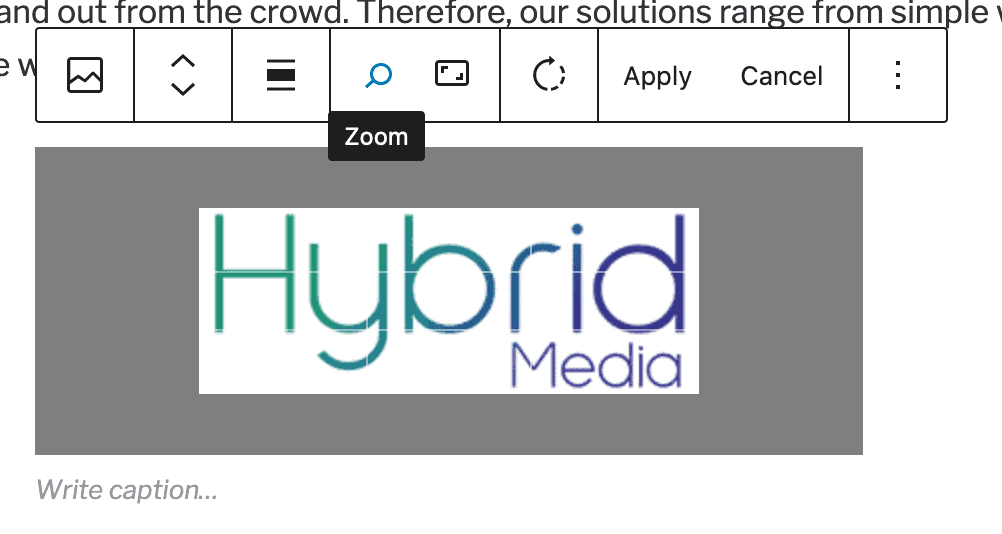 Within WordPress 5.5 you will be able to edit, rotate, crop, resize an inline image without ever leaving the block editor.
Default Lazy Load Images in WordPress
Within WordPress 5.5, this update brings 'Lazy Loading' to its images by default. Inline images within the block editor now have the following attribute.

The attribute loading="lazy" gets automatically added once you update to WordPress 5.5, this is a common technique amongst web developers which only downloads images once visible on the user's browser screen, this will help to improve your websites speed and performance.
As of the time of writing, if you're using ACF Fields Pro (or the free version) then the Image field does not automatically add the attribute 'loading="Lazy"' to it. You will need to add this attribute manually to take advantage of this benefit.
This feature is supported by Firefox, Chrome, Edge 2.0 (Chrome Based). Safari however is currently unsupported.
Auto Updates for WordPress Plugins & Themes
Within WordPress 5.5, it brings a powerful management system. This feature allows you to enable auto-updates for plugins and themes.

In theory this sounds like a great idea, not having to worry about security issues with plugins and themes and allowing WordPress to update software automatically once a new update is available.
However, in reality, this may cause more issues than its worth. It's best practice to wait a few weeks for an update to make the 'rounds' so to speak, to allow this update to be in the wild before updating straight away and for the developer to iron out any bugs it may have.
We always recommend backing up the Themes and Plugin folder before updating anything on a WordPress website, so you can easily revert back to a working version of your website before the update. This also includes backing up your website before upgrading to any new version of WordPress. Click here to find out how
Known Issues: jQuery Migrate 1.4.1
There has been some controversy however with WordPress 5.5, it's been reported that when updating to WordPress 5.5, some jQuery scripts will become deprecated.
You can find out more information regarding this and how to make sure when you upgrade you can migrate your jQuery to a functioning version, here
Conclusion
So far we're really impressed with this update, there have been some great user improvements and easier management of content. We hope you have found this article to helpful. Why not check out our other articles by visiting our blog